Pontiff urges disarmament as he tours Japans atomic bomb sites and meets survivors of the 1945 attacks
Pope Francis has condemned the unspeakable horror of nuclear weapons during a visit to Nagasaki, one of two Japanese cities destroyed by American atomic bombs towards the end of the second world war.
Speaking on the second day of the first papal visit to Japan for 38 years, Francis urged world leaders to end the stockpiling of nuclear weapons, saying it offered their nations a false sense of security.
Convinced as I am that a world without nuclear weapons is possible and necessary, I ask political leaders not to forget that these weapons cannot protect us from current threats to national and international security, he told hundreds of people at the citys rain-drenched atomic bomb hypocenter park on Sunday.
Earlier, Francis had placed a wreath and prayed at the foot of a memorial to the 74,000 people who died instantly and in the months after the US dropped a nuclear bomb on Nagasaki on 9 August 1945, three days after it had carried out a nuclear attack on Hiroshima, in which 140,000 people died by the end of the year.
This place makes us deeply aware of the pain and horror that we human beings are capable of inflicting upon one another, Francis said, standing next to a large photograph of a young boy carrying his dead baby brother on his back at a crematorium in the aftermath of the attack on Nagasaki.
Francis was given the photograph several years ago and has since distributed tens of thousands of copies. He was due to meet the widow and son of Joe ODonnell, the American military photographer who took it.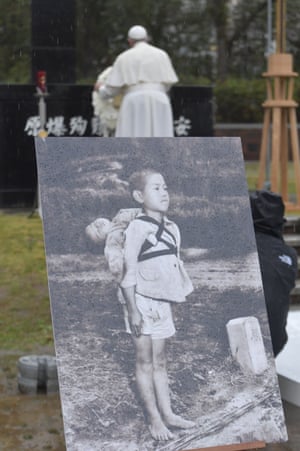 Source: http://www.theguardian.com/us